8 Ways To Fix Fast Charging Not Working On Your Android Phone
Gone are the days when you kept your phone charging all the time. The technological advancement in smartphone industry has introduced us to Fast Charging. This tech has enabled us to charge our smartphones blazingly fast than ever before, hence providing us more backup time. However, some users have faced issues while fast charging their phone. In this article, you will learn 8 ways to fix fast charging not working on your Android phone. Additionally, you can check if fast charging is harmful for your phone or not.
Also, Read | 3 Ways to Protect your Android Phone from Overcharging.
Fix Fast Charging Not Working On Your Android Phone
Table of Contents
Wrapping Up
Fast charging offers you the capability to bring back your discharged phone back to life in just a few minutes. But, what happens if your phone suddenly stopped charging at blazing fast speeds or not charging at all? Don't worry , we have handpicked 8 ways to troubleshoot this issue.
Are you unsure about your device supporting fast charging capability? Worry not, if your smartphone uses the Qualcomm quick charge technology, then it is listed online. You can browse through this list of smartphone devices that officially supports fast charging. Additionally, you can Google your device's model name or check your box details to determine if it supports fast charging.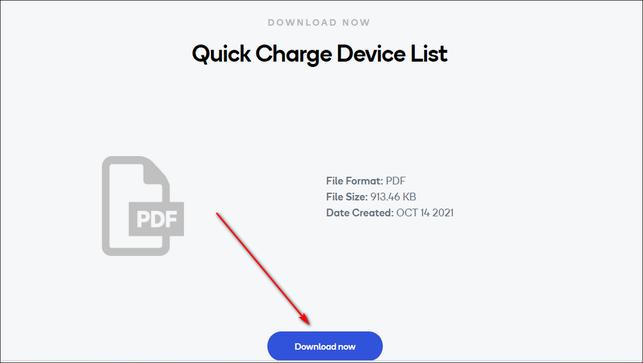 If your phone supports fast charging but somehow it is not charging with the fast charge technology, it might probably be due to a bug present in the system that might be interfering with it. To fix this, you need to check your phone and install the software updates and bug fixes. Additionally, ensure to turn off the phone while charging to calibrate the battery. Follow these simple steps to check any available updates for your phone.
You can also determine your phone's fast charging capability by reading the details printed on the charger itself. Follow this simple table to know fast charging capabilities based on current outputs produced by the charger.
Safe mode is a feature provided by the Android system that can solve the problems related to application configuration or incompatibilities. You can restart your device in safe mode to check if your phone is supporting the feature of fast charging. Follow these easy steps to do the same.
Data cables are equally as important as charger for delivering fast charging speeds to the phone. If you use a fast charging adapter and a non compatible data cable, the charging speeds are going to be significantly lesser than the compatible cable. Always purchase and use certified data cable for charging your phone. Have a look at these certified cables that supports fast charging.
Amazon Basics Double Braided Nylon USB Type C to Type A Cable
Amazon Basics USB Type C to Type C Cable
Loose connections and internal damages to the charging port can result in providing improper charging speeds to the device. In such a situation, it is better to get the charging hardware replaced by a certified technician. Prolonged usage of damaged hardware can result in fatal consequences and cause irreparable harm to the battery.
Some Android smartphones offer specific toggle for enabling fast charging capabilities in your smartphone. If this is turned off, your phone will only charge at normal speed. Follow these simple steps to enable fast charging on your phone (if it is supported).
If your phone supports fast charging technology, you should always use the original charger that came with its box or use a certified aftermarket fast charger. There are lots of certified fast charging adapters available on e-commerce platforms such as Amazon, Flipkart etc. For instance, you can check the Belkin 18 W USB-C Adapter.
Wrapping Up
In this article, you have learned about 8 ways to fix and troubleshoot fast charging technology not working on your Android smartphone. If this article has helped you to fix this issue, then hit the like button and share this among your friends to help them achieve the same. As always, stay tuned for more informative articles like this one.
You can also follow us for instant tech news at Google News or for tips and tricks, smartphones & gadgets reviews, join GadgetsToUse Telegram Group or for the latest review videos subscribe GadgetsToUse Youtube Channel.