Agrivoltaic systems have the potential to meet energy demands of electric vehicles in rural Oregon, US
The transportation sector contributes roughly 25% of global CO2emissions from fossil fuel combustion1and is the fastest growing source of all greenhouse gas emissions2. Passenger vehicles make up the majority (44%) of the transportation sector's energy demand and approximately 80% of those vehicles are powered by gasoline3. Dependence on non-renewable fossil fuels and significant environmental impacts make the current transportation sector unsustainable2.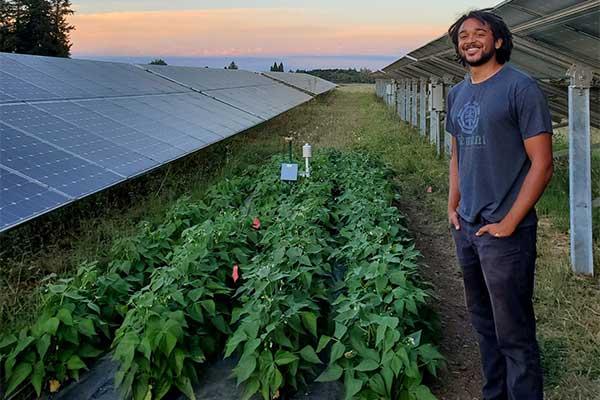 Electric vehicles (EVs) are considered the most promising advancement in the pursuit of sustainable transportation4. Widespread adoption has the potential to reduce oil dependency and emissions5, particularly when the EV manufacturing process and electricity generation are decarbonized2,6,7. This potential has been recognized by governments across the globe, which have set goals that include eliminating gasoline and diesel vehicles and fully converting to electric or hybrid vehicles by as early as 20258,9. While the widespread promotion of EVs has led to significant growth in EV ownership in many countries over the past decade10, the market share of EVs remains small, representing only 4.6% of vehicle sales worldwide in 202011. Further, the projected growth of EV sales varies significantly across regions and countries. The US is projected to reach only 8% of new car sales by 2030, compared to 26% and 28%, respectively, in Europe and China8.
A primary hindrance to widespread adoption of EVs is range anxiety, particularly in rural America12. Range anxiety is the fear of running out of electricity before reaching a charging station and is the most influential factor when a consumer considers an EV purchase13. Two distinct challenges must be addressed to mitigate range anxiety: (1) improve the range EVs can travel on a given charge, and (2) increase the density of charging stations, particularly in rural areas where their density is lowest12,14.
The emerging technology of agrivoltaics presents a unique opportunity to improve charging infrastructure in rural areas where electrical infrastructure tends to be weaker12. Agrivoltaic systems (AVS) co-locate agricultural production and photo voltaic energy production for mutual benefits. These benefits can include, for some areas and climates, increased agricultural production15,16,17,18, increased renewable energy production19,20, increased land use efficiency21,22,23,24, and increased total revenue18,19,25,26. Further, agricultural land is recognized as the land cover type with the most solar power production potential20. Agricultural land is also distributed where EV charging station density is lowest. AVS has the potential to generate clean energy on-site at rurally-distributed points of EV demand without competing for land with the agriculture industry. Here, we evaluate the feasibility of leveraging AVS technology to improve EVCS infrastructure. Through a site suitability analysis, we analyze the rural locations at which AVS is capable of powering EVCSs to meet future EV power needs in magnitude. Temporal matching of load and generation were not considered. Also note that this analysis takes a highly conservative approach. That is the envisioned scenario is maximum demand (traffic) on calendar month with lowest photovoltaic generation potential. Our results show that even within these constraints, agrivoltaics could play a role in charging station infrastructure development. We evaluate the potential for our proposed approach to mitigate range anxiety and CO2emissions related to vehicle use.