Five features to look out for when buying a power bank
A power bank or portable charger for devices like mobile phones couldn't be simpler to use – hook it up, push the button and sit back while it charges.
So you might not expect that there are many features to consider in such a straightforward device, but you'd be wrong. Our power bank tests not only reveal the models that perform, but also assess the most useful features to look out for.
Below are five things to think about when deciding which power bank to buy.
Browse the best power banks to see which models impressed in our lab tests.
1. Capacity
This is perhaps the most obvious feature to look out for. The number you're interested in is mAh (milliamp hours). The more mAh a power bank has, the more power it should deliver. We divide power banks into three categories:
You'll see models from each size category represented throughout this article.
Power banks with higher capacities tend to be bulkier and heavier. You could easily forget about a 3,350mAh power bank in your handbag, but by 20,000mAh, many models will noticeably weigh down a bag, and won't fit comfortably in a pocket.
Most power banks can be carried on planes as hand luggage, but not in checked luggage. Very high capacity (roughly anything over than 27,000mAh) power banks cannot be taken on planes at all – and may be confiscated at the airport. Be sure to check your airline's rules before flying.
2. Pass-through charging
Pass through charging allows you to charge your power bank from the mains while using it. At first blush that might not sound very useful, but it can be surprisingly handy. If you're travelling, for instance, and you've drained the battery on both your phone and your power bank, you can charge both using a single plug socket. That means one less adapter to pack on your travels.
Power banks that feature pass-through charging: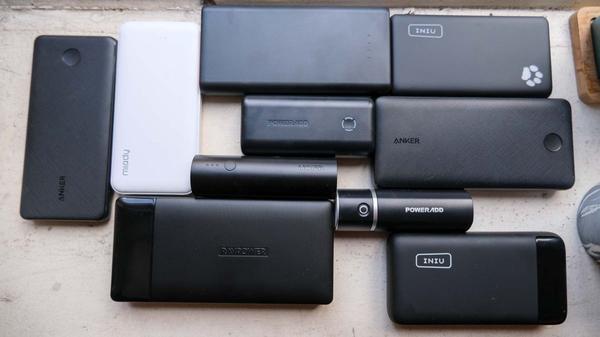 3. Input/Output ports
Input ports are used to charge the power bank, while output ports transfer that energy to your devices. There are small differences between each type, but generally you're best off buying a power bank with sockets that suit the devices and cables you plan to use with it.
This port is designed for the classic chunky USB cable. While USB-A ports are slowly disappearing from laptops, they're still among the most popular and versatile cable types.
Almost all power banks feature at least one USB-A output.
This is the recent standard in USB, and is used in most new Android phones. Unlike the other sockets we've mentioned, USB-C can be used either as an input or and output port. This type of cable supports 'power delivery' (more on that later). USB-C connections are also reversible, so there's no chance of plugging them in upside down.
Power banks with USB-C ports:
This is a popular cable type for charging power banks, older smartphones and other small devices – so there's a good chance you already have some around your home. Unlike USB-C and Lightning, micro USB cables need to plugged in the right way around – which can make them fiddly at times.
Power banks with Micro USB ports:
This has been Apple's go-to proprietary cable since the iPhone 5. Like USB-C it's reversible, so can be plugged in either way up. Models with Lightning inputs might suit you if you're an Apple user and you want to minimize the number of cables you need. Rumours have been circulating for years that Apple may move away from the Lightning cable in future releases.
Power banks with lightning ports:
4. Power delivery
Power delivery, or 'PD', is one of several fast charge technologies, designed to speed up the time it takes for your power bank to charge your devices. It does this by increasing the wattage used to charge to the maximum amount your device can safely handle. This only works with compatible USB-C cables, which have specialised chips that prevent overheating.
This feature requires a compatible USB-C cable to work. Some models with power delivery have been among the fastest we've tested, but some models without are just as fast.
Power banks with power delivery:
5. Displays
Most power banks have the same type of display – four LED lights, which can be activated with a power button. When the battery has plenty of charge, all four lights come on. When it's empty, all four lights stay off. If you want a more specific display, some models have small screens showing exactly what percentage is left in the power bank.
Models with a numerical display:
How we test power banks
We subject portable power bank chargers to a rigorous battery of tests to separate bold manufacturer claims from reality. So we know from experience that there's more to buying a power bank than reading the numbers and features on the box.
For instance, some of the best power banks can fully charge your smartphone in one hour 45 minutes, while the slowest take as long as three and a half hours. That's fine if you're charging overnight, but if you need a quick burst of power on a high drain device like a tablet, you'll struggle to charge it faster than it consumes energy.
Other power banks overpromise when it comes to the amount of charge they actually deliver. The worst we've tested only put out 77% of its stated mAh capacity. The best can sometimes actually deliver more than they claim.