First impressions of the Google Pixel 6 and Pixel 6 Pro: Google's best phone ever?
The Pixel 6 and the Pixel 6 Pro have now been launched by Google and after having them both for the past day or so it's time to give a quick hands-on, first impressions of it.
Firstly, the box is small — there is no escaping why, and it is the same reason that the Galaxy S21 and the iPhones come in such small boxes now — no charger.Inside the box is the Pixel 6 or 6 Pro along with a USB-C to USB-C cable and a USB-A adapter.There is no screen protector pre-installed on the Pixel 6, instead a sticker that is opaque is stuck on it to protect the display in transit.Once you remove that though you are on your own.
The phones are shiny, and they are big.Both sides are glass of sorts and surprisingly the rear of the device must have also been treated with an oleophobic coating as it is definitely NOT a fingerprint magnet like so many of these glass-backed phones are.The rear houses the rear camera island and it is a strip across the rear of the phone which I quite like.It looks nice and symmetrical while at the same time will help it to sit flat on the bench.If you are worried about the camera lenses scratching while sitting on its rear, the camera module has a lip on it to prevent the lenses touching any flat surface.
The camera strip does need a special mention though — it is massive.It sticks out from the back of the phone quite a bit which is most likely due to the periscopic 48MP camera with 4x optical zoom.The new cases mentioned by Google in their launch today will entirely protect the camera lenses and "fit seamlessly around the camera bar" — if you are looking to purchase a Pixel 6 smartphone seriously consider proactively purchasing a protective case from Google (or other well-known accessory manufacturer) at the same time.
In the hand they feel great with the curved edges of the front and rear comfortable for long usage.Stick them side by side and the difference in height and size between the two is minimal.Both are good sized phones but opting for the Pixel 6 would not be due to its smaller size, but more so for its pricing and better value for money (although you do get a downgrade in display).
After setting up the phone you are greeted with Google's new Material You and after extensive testing (24hours), I love it.You can set the theme to match your wallpaper and it will take subtle colours from your wallpaper and change icons and other sections of the UI to match.
There are new animations for turning the display off, the beginning of charging and more along with the usual Pixel Experience — that experience of a fluid UI that behaves exactly how it is meant to without any stuttering or lag.It doesn't jump quickly from one screen to another but it flows into the next screen.Fluid.The Pixel Experience can be difficult to describe but it is one that needs to be seen (and used) to be fully understood.
The Magic Eraser feature is an interesting, and welcome addition to the Pixel photo editing experience. In essence, the feature lets you remove photobombers, be they people, cars or even objects from the background of your pictures.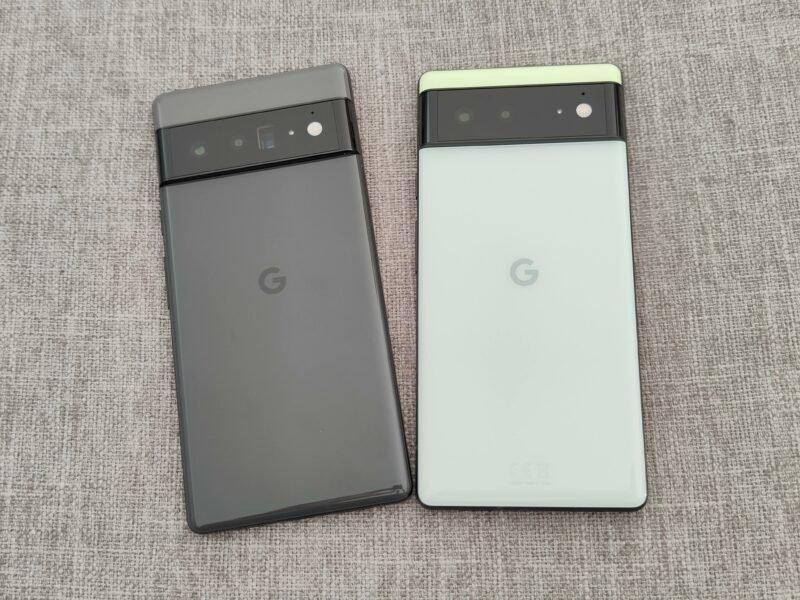 In practice it's been pretty freaking cool, removing people from the background automatically, but also letting you manually clean up a few things you don't want like cars. There's a few artefacts here and there, but for sharing on phones and social media it's a great addition, especially with the option to apply it to any photo you've taken previously.
I'm yet to test out the camera to any extent — this day job just gets in the way far too often.It appears, on first tests, to be far and away Google's best camera — it most certainly is the first time they have focused on bringing premium camera hardware to the party.We will be putting the cameras on the Pixel 6 Pro and the Pixel 6 through their paces in the coming days: stay tuned for the reviews, coming soon.
This is a damn good-looking phone; it is a damn smooth phone that functions exactly how an Android phone should without any idiosyncrasies you may see from other manufacturers.It is also priced incredibly aggressively and at that price I can see Google selling a lot of them (depending on how hard they push their marketing).
I am looking forward to putting both of these phones through their paces and discovering all the new cool stuff Google has in store for Android and their Pixel phones.At this stage I think I'm in love — let's see how long this love lasts.
If you're interested in grabbing a Pixel 6 or Pixel 6 Pro we've put together a guide on where to find all the deals, including all the pre-order bonuses!