Health Changemaker Leroy Sims, MD, Helped Create the NBA Bubble at the Start of the Pandemic to Bring Back the Game
In January of 2020, when news out of Wuhan, China, and beyond was all about the rapid spread of a deadly new virus, Leroy Sims, MD, the senior vice president of medical affairs for the National Basketball Association (NBA), was monitoring the situation while working at the NBA's Paris office. "We knew there was an outbreak and wanted to know more information," he said, "[but] none of us knew then that this pandemic was going to happen."
By January 31, the NBA had sent its first memo to teams and staff about the situation, telling them what they knew about transmission of the virus and recommending public health prevention measures such as hand-washing, regular symptom checks, and physical distancing. Just a little over a month later, on March 11 — the same day the World Health Organization (WHO) declared COVID-19 a pandemic — the NBA suspended its 2019–2020 season as mass closures spread across the country.
For Dr. Sims, who is also an emergency and sports medicine physician at Mills Peninsula Medical Center in Burlingame, California, moving quickly into action and frequently pivoting were nothing new. So when the initial 30-day season suspension turned into a much longer hiatus from the game, Sims continued to plow through research, logistics, and a lot of consultations. By June, he and his colleagues had arrived at a point where they felt it was physically and mentally safe to bring players and staff back together for training, inside the bubble they'd created at the ESPN Wide World of Sports Complex outside Orlando, Florida. With several hundred people in the bubble, the season officially resumed on July 30, almost six months to the day after that initial memo went out.
Sims talked to Patrice Harris, MD, FAPA, a psychiatrist and Everyday Health's chief health and medical editor, about his journey into medicine, those incredibly intense months between the shutdown and the season restart, how he personally held it all together during this time, how it felt to make it to the end of the season with no COVID-19 cases, and his hopes for the future of healthcare and society.
Patrice Harris: Dr. Sims, tell us what made you want to go into medicine and why you chose to concentrate in emergency and sports medicine.
Leroy Sims: I had a fascination with sirens and speeding vehicles and rubbernecking when I was a little kid. From an early age, I wanted to be an EMT or a paramedic. It lined up perfectly with the television show Emergency! that I used to watch. And all the headlines that Dr. Ben Carson was making as a Black physician and neurosurgeon and all the attention the surgery he did separating the craniopagus twins was just fascinating. I originally thought I was going to do neurosurgery, but ultimately decided that I wanted to pursue sports medicine.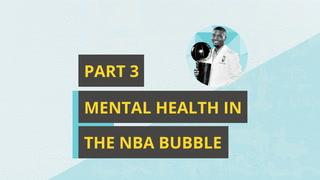 I really liked that concept of being able to help anyone anytime or being able to do what you can with limited resources to make a big impact. So I pursued emergency medicine and I practiced my residency at Harbor UCLA. After [that], I did a sports medicine fellowship at Stanford University. In the fall of 2011, I became the team physician and medical director for the Golden State Warriors. I did that for three years and subsequently moved on to being an event medicine consultant for the NBA, prior to rising to this level of working full-time with the NBA.
PH: What a journey. So getting to January and February of 2020, you were in Paris with the NBA, and we were all beginning to hear about what we now know was the pandemic. Based on what you were seeing and hearing, what were some of your earlier thoughts about how this might impact the NBA?
LS: The NBA is a global organization. We're a sports institution, but also entertainment and media. And we have offices around the globe, including in China. So early on, we were getting information about what was happening in Wuhan. The earliest thoughts I had from Paris was preparing those memos and talking points [for teams and staff], reviewing what was being said by the WHO and CDC [Centers for Disease Control and Prevention], and talking to our counterparts at the U.S. embassy and consulate in China to get as much information as we could to alert our staff about the situation. Again, not really knowing where this was going.
PH: And then just a couple of months later, on March 11, the 2019–2020 NBA season was suspended. I think it made us all stand up and take notice. How quickly did you all begin to think about how you could continue the season?
LS: That suspension was meant to be for 30 days. But as you know, the pandemic really started to unfold, cases started to increase, and that 30-day period was upon us and it was clear that we wouldn't be able to restart right then and there. A lot of collaborative efforts started to go into place. We were talking to other organizations, asking questions, gathering information. We started to seek out experts in epidemiology, infectious diseases, certified industrial hygienists, and statisticians to see what was coming and if we were going to start to plan to resume, how we could do it, where we could do it, and in what manner we could do it the safest.
We knew this virus was continuing to emerge, and newer information was coming out about asymptomatic transmission, the utility of masks, the presence or lack of PPE for healthcare providers, lack of ventilators — all of that we were absorbing and trying to see, does it make sense for us to resume? And if we are going to resume, what's the best way we can do it?
PH: You had to consider literally everything, and you did so with the ultimate concern for safety. I want to give a shout-out to you and the NBA because I think restarting the season was important to us as a society. Everything was shut down, and we did not have the usual distractions — and people were worried. The NBA really helped our country get through at least that early phase of the pandemic. So talk a little bit about the bubble, because a lot of sacrifices were made by the players, staff, coaches, everyone.
LS: We had to consider all aspects of the bubble. First and foremost was the physical and mental health of anyone who would be there and how to make it livable. If we were going to be there for a few months, it not only had to have the essentials in terms of testing and masks, PPE, and all the things that we needed to help make people safe. We couldn't send people out, so we needed to have as much as we could [inside the bubble]. And that included having an on-site medical clinic, imaging resources, and we had to make sure that it was livable so that people had opportunities to exercise, to take walks, and to have fun.
We had to consider all aspects of the bubble. First and foremost was the physical and mental health of anyone who would be there and how to make it livable. We had to think about the social and emotional [aspects], too.
It couldn't be all work. We had to think about the social and the emotional [aspects], too. We had 22 teams and their coaching staff and team staff. We had NBA staff. We had media, we had broadcasters, and all the people who were there to help us operationalize the plan, from transportation to food and beverage to activities and on-campus excursions. If we were transporting people from the hotels to the arenas, we had to think about spacing and ventilation. If people were going to eat, we needed to make sure there was physical distancing and that we could do things in a very responsible manner.
Even when we got there, we had people quarantine for a short period of time. How could we make the quarantine not too onerous on people? And after that, testing every day, getting people to be compliant with the protocols. If someone did test positive, [we needed to ensure] that we were able to follow up with them quickly to abate any transmission. So it was a massive, massive lift, lots of collaboration and lots of meetings. We met constantly to make sure that we didn't drop the bubble. Then what would it look like if we were to allow players to bring their families down, and for kids?