At $1,800 For The Samsung Galaxy Z Fold 3, You'll Want To Cover It With One Of These Cases
Two of the most highly-anticipated devices have arrived, with Samsung releasing the Galaxy Z Fold 3 (read our review here) and Galaxy Z Flip 3. Both of these devices may not look like much of an upgrade at first glance, but Samsung has really pulled out all of the stops to try and entice more users to give foldable phones a shot.
One of the biggest complaints with the Galaxy Z Fold 2 last year came courtesy of the obvious durability concerns. This was made even worse by the fact that you couldn't get your hands on a case for months (in some instances) after the Z Fold 2 was already in your hands.
In 2021, things are definitely a lot different, as not only are we getting myriad first-party cases from Samsung, but other case makers are getting in on the fun. We've gone through and rounded up the best Galaxy Z Fold 3 cases that you can find today.
MORE FROMFORBES VETTEDByJon MartindaleContributorByMolly CalhounContributor
The Best Galaxy Z Fold 3 Cases from Samsung
Samsung Silicone Protective Cover
The Silicone Protective Cover from Samsung is the most logical jumping-off point if you just want a basic case to pair with your Z Fold 3. With its matte finish, you won't have to worry about it slipping out of your hands accidentally. But in the event that it does, the case actually protects both the back and the front with a slim silicone bumper around the front display.
Samsung Galaxy Z Fold 3 Phone Case with S Pen
Outside of the added IPX8 durability rating, the next biggest upgrade to the Galaxy Z Fold 3 is the added S Pen support. This was one of the biggest requests from Z Fold 2 owners, which has been compounded by the omission of a Galaxy Note device in 2021. There are actually two different S Pen models available, but Samsung has a Folio Cover that includes the S Pen Fold Edition.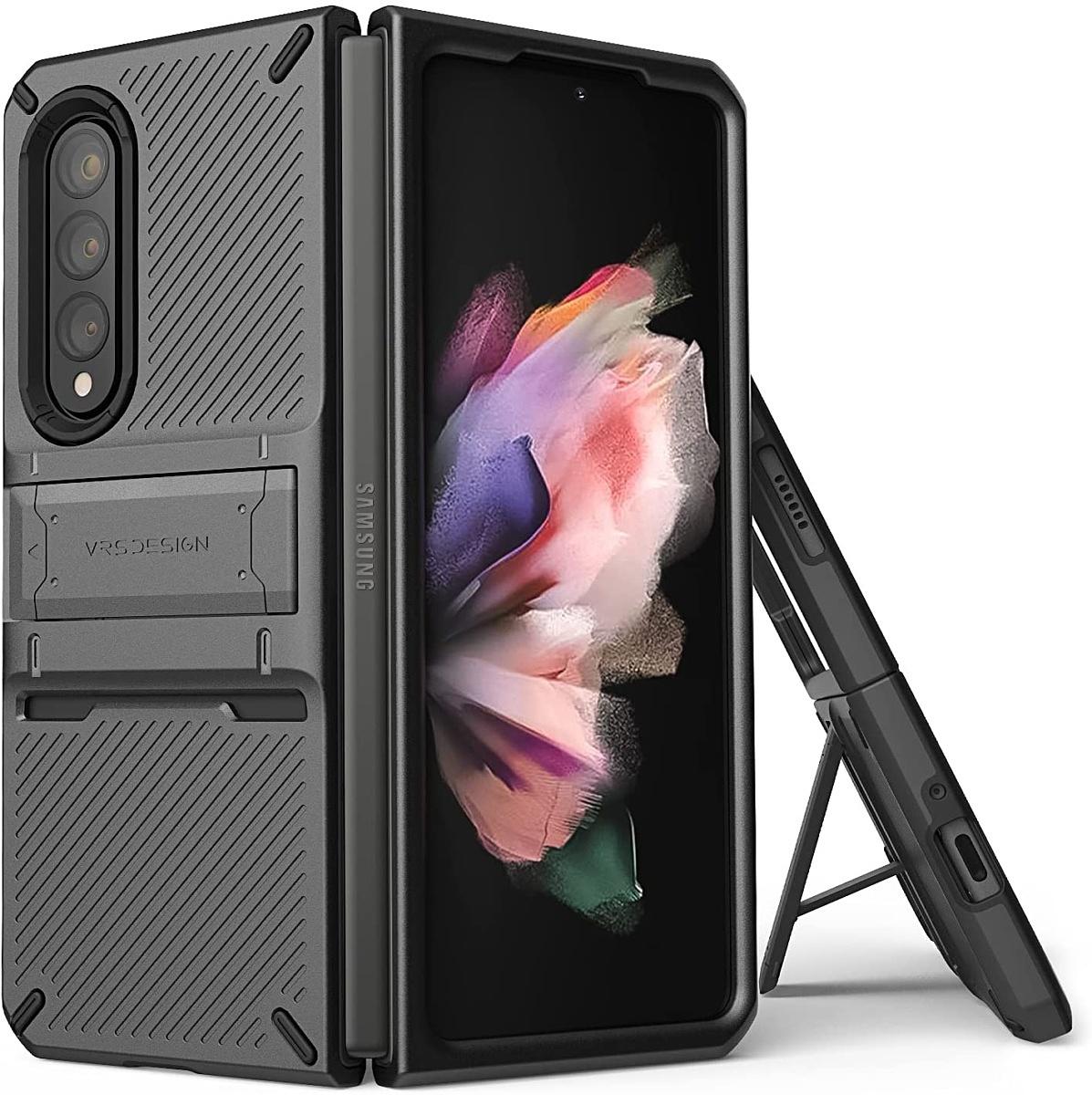 In addition to providing protection for your Z Fold 3, this case also ensures that your phone lays flat on whatever surface you place it down on. Thanks to the design choice, you'll be able to write, draw, or doodle comfortably with the included S Pen Fold Edition. Plus, the S Pen is housed in a detachable holder, so you can remove it when you don't need to add more bulk to your case.
Samsung Leather Protective Cover, Camel
Those who want a professional-looking case will definitely want to check out Samsung's Leather Protective Cover. We're slightly biased toward the Camel color, as it will develop a unique patina over time. However, there are several colors to choose from, and the case comes in two pieces just like the Silicone Cover to provide as much protection as possible.
Leather Flip Stand Cover
There's the standard Leather Flip Cover, but Samsung is also releasing another version with a built-in stand. Just fold back the half of the case that covers the outer display, and magnetically snap it into place. Now, you'll be able to prop up your Galaxy Z Fold 3 so you can sit back and watch some YouTube, or take a video call with ease.
Samsung Aramid Cover
If you're looking for the slimmest and sleekest case from Samsung, you can't go wrong with the Aramid Cover. Unlike last year's model, the Galaxy Z Fold 3 version does not include a built-in kickstand. But that's likely for the best considering how flimsy the Z Fold 2's kickstand was. The Aramid Cover is lightweight and protective, while sporting that awesome design across the entirety of the case.
The Best Galaxy Z Fold 3 Cases from Spigen
Spigen Slim Armor Pro [Hinge Coverage]
When Spigen finally released the Slim Armor Pro for the Galaxy Z Fold 2, it was almost impossible to get one for quite some time. Spigen is back with the Slim Armor Pro for the Z Fold 3, with the same unique edge protection. And while this case does add quite a bit of bulk, it's for good reason—the case's dual layer design and Spigen's Air Cushion technology provide the most protection possible.
Spigen Tough Armor [Hinge Protection Technology]
The Spigen Tough Armor has a slightly-different look this year as there's a unique sliding hinge. This slides in and out, offering a layer of protection for the hinge itself with a soft TPU material. Spigen also went so far as to make this case MIL-STD 810G-516.6 certified, while including its unique Air Cushion technology for better anti-shock protection.
Spigen Thin Fit
Although it seems that Spigen is primarily focusing on ultra-rugged cases for the Galaxy Z Fold 3, there are slimmer options too. With the Spigen Thin Fit, this two-piece case offers a lightweight and slim profile along with a matte finish to provide a little bit better grip. And the polycarbonate material provides plenty of shock absorption on its own.
Spigen Ultra Hybrid - Crystal Clear
Where's the fun in getting a new phone if you're just going to hide it behind a case? That's what Spigen was thinking with the Ultra Hybrid thanks to its "Crystal Clear" design. This transparent case lets you show off the sleek design without being forced to take your phone out of its case. Plus, Spigen uses a hybrid design with a TPU bumper and polycarbonate backplate for added shock protection.
Spigen Air Skin
If you're looking for the thinnest Galaxy Z Fold 3 case from Spigen, look no further than the Air Skin. As the name suggests, this case is form-fitted for the Z Fold 3, while also being lightweight and still providing a little bit of protection. There's even a urethane coating to prevent against discoloration, which is convenient given that it comes in a couple of different colors.
Spigen Neo Hybrid S
Having a kickstand built into your Z Fold 3 case is one of those quality-of-life features that you're not going to want to be without. Thankfully, the Spigen Neo Hybrid S fits the bill nicely, providing plenty of protection while also sporting an integrated kickstand. This case also features cut-outs so you have quick and easy access to the buttons and the side-mounted fingerprint scanner.
More Great Case Options
Ringke Slim Case - Clear
Spigen isn't the only company making an ultra-thin Galaxy Z Fold 3 case with a clear option. The Ringke Slim Case is here for those who prefer something different. With the built-in QuickCatch lanyard hole, you can easily attach a wrist or neck strap to your Galaxy Z Fold 3, so it never leaves your sight.
VRS Design QuickStand Pro, Durable Kickstand Case
VRS Design makes some of the best cases out there, and the trend continues with the QuickStand Pro. There's a built-in kickstand on the back with reinforcement, so your Z Fold 3 doesn't accidentally fall over when it's being propped up. You'll also find precise button and port cutouts, so you won't have to be concerned with the case getting in the way of charging or dealing with mushy and unresponsive buttons.
OtterBox - Symmetry Flex Series
Otterbox has been in the case-making game for quite a long time now. And despite all of the competition, the Otterbox Symmetry is still one of our favorite series of cases. Thankfully, the Symmetry makes its way to the Galaxy Z Fold 3 with its clear polycarbonate back plate and TPU bumper for added shock absorption. Otterbox has also included an antimicrobial layer to protect the case's exterior from common bacteria.
UAG Civilian Case for Galaxy Z Fold3 5G - Mallard Blue,
There are plenty of protective cases, but many of those can be overly bulky, which is not a great combination to go with the already chunky Galaxy Z Fold 3. The UAG Civilian Case attempts to solve that problem while still being thin enough to charge the Z Fold 3 wirelessly, along with providing hinge protection. This case also meets the MIL STD 810G 516.6 drop-test standards, as the case is rated to withstand drops from up to 4-feet high without suffering any damage.