Huawei Matebook X: Laptop with high performance
The Huawei MateBook X is one of four products in Huawei's 2022 laptop lineup. The Huawei MateBook X combines powerful specifications with stunning aesthetics and build quality. The most noticeable feature of the Huawei MateBook X laptops compared to their predecessors is the use of Intel's 11th generation Core processors. In addition to the improved base performance configurations, the newly launched laptops have an impressive array of features that make them easily stand out.
I got this Huawei Matebook X a few weeks ago, and after all this time, I want to talk about my experience with it.
Design
The Huawei MateBook X follows the design philosophy: pure and invisible, with simple and elegant design elements and a frame made of aircraft aluminum. Weighing about 1.33 kg and 14.6 mm thick, the notebook is light and portable, yet sturdy enough for its weight.
The A-side of the notebook is emblazoned with HUAWEI's logo, and the sides of the case feature a curved design with CNC drilling and cutting technology. The B-side of the notebook features a 13.9-inch LTPS full-screen display with a resolution of 3000 x 2000 pixels, a contrast ratio of 1500:1, and a PPI value of 260, combined with a wide color gamut of 100% sRGB, enabling a 3K display. Huawei Matebook X's full-screen display makes movies and more more immersive and colorful.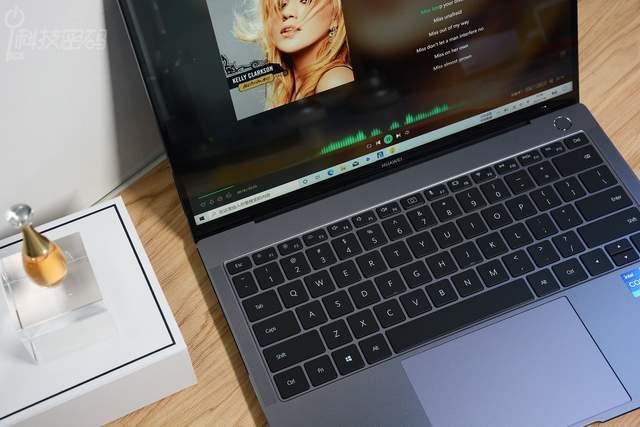 Huawei MateBook X also features a more nimble keyboard design with a pressure touchpad below the keyboard and an enlarged touch area for a more atmospheric look. The MateBook X's hidden camera is located in the function keys at the top of the keyboard, protecting our privacy. The round power adapter in the upper right corner has an integrated fingerprint recognition, which makes it easier to turn the device on and off.
In addition, the notebook's screen supports 10-point touch and features ultra-thin Corning Gorilla Glass protection, One Glass solution, and AF Anti-Fingerprint technology, which contributes to high-precision multi-touch, which not only makes it easier to use, but also makes the screen less likely to get dirty.
Most importantly, the device supports Huawei's proprietary eye-protection technology, which automatically adjusts the screen's white balance and color tone. As someone who spends a lot of time in front of a computer, it's easy to lose perspective, and the Huawei Matebook does a good job of preventing this problem.
Hardware and Performance
The Huawei MateBook X offers an outstanding user experience thanks to a number of smart features such as multi-screen collaboration, Huawei cloud services, and a new app marketplace.
With 16GB of LDPRR4 RAM and a new dual-sharkfin fan design, the performance offered is perfect for the everyday needs of lightweight users. In terms of core configuration, the Huawei MateBook X has been upgraded to the 11th generation CoreTM processor with further improved single-core performance based on an excellent power efficiency ratio from the 10nm process, enabling faster responsiveness for everyday programs.
The Huawei MateBook X is equipped with four speakers with tweeter and woofer crossover that work together to create a more vibrant stereo sound. Only one 3.5 mm headphone jack, one USB 3.0 port, and two USB-C ports with a transfer bandwidth of up to 40 Gbit/s are present on the chassis. In normal use, the device occupies one USB-C port and the rest occupy one USB 3.0 and one USB-C port. If necessary, a docking station can be used for peripheral access. On the bottom, the two functions of sound transmission from the speakers and ventilation are taken into account via slotted holes on both sides.
The Huawei MateBook X model has a battery of only 56Wh, but the battery runtime is phenomenal. In PCMark10's Modern Office test mode, up to 11 hours and 22 minutes can be achieved with the 56Wh battery. The notebook supports a 65-Wh fast charging feature that can fully charge it in two hours. It also supports fast charging of selected Huawei phones and tablets with USB-C ports.
Conclusion
The Huawei matebook x is designed for the business office in terms of both design and performance features. It is a good choice for those looking for a powerful and stylish Windows notebook.