The Best iPhone Cases for the iPhone 12, 12 Mini, 12 Pro, and 12 Pro Max
You're either a case person or you're not, but we always think putting a protector on your iPhone is a good idea, especially as repair prices continue to climb. The iPhone 12 is the first major redesign since 2017's iPhone X, affording case makers an opportunity to come up with all-new designs and to refine models we've had good experiences with in the past. No matter what style case you prefer, we have recommendations, and we'll continue to test as new models are released.
The research
Best basic iPhone 12 case: Smartish Gripmunk
Best basic case for iPhone 12 and 12 Pro
Like previous versions of the case we've recommended going back to the iPhone 7, the Gripmunk for the iPhone 12 is a great slim, protective, and affordable case—but plain.
$15 from Amazon
Best basic case for iPhone 12 mini
The Gripmunk adds very little bulk but should help protect your phone from minor mishaps.
$15 from Amazon
Best basic case for iPhone 12 Pro Max
While there are only three color options, you can get custom prints to personalize the case.
$15 from Amazon
Why it's great: Even if we aren't big fans of the name—we preferred its previous name, the Base Grip—Smartish's Gripmunk has been our favorite case since the iPhone 7 launched in 2016. The iPhone 12 version is no different, as it takes the elements we've praised and translates them to the new, flat design. This isn't a flashy case, but it's a dependable one.
The Grip is a single piece of a flexible rubber material called TPU, which has enough give to easily install on your phone but not so much that it'll pull off when you don't want it to or stretch out over time. The back is smooth while the edges have a slightly pebbly texture and finger grooves that help improve grip. Inside each of the four corners is a small air pocket that may help absorb some shock from drops or falls; we've dropped previous iPhones clad in this case dozens of times and never damaged their bodies. The screen is recessed between a protective lip that provides drop protection, but isn't so tall as to get in the way of your thumb while you're swiping. It's unlikely you'll find a case of this quality at a lower price. Any cheaper, and most cases will lack some—or all—of these highlights.
One feature that may fly under the radar is Smartish's custom design option. On Amazon, you can choose the "secret menu," offering a handful of patterns printed on the back of the case for a $10 premium. On the company's website, you can upload your own images or text for a truly personalized case. The print quality is high, and it lasts.
MagSafe accessories won't reliably stick to the back of this case, and the adhesive on accessories like PopSockets doesn't always stick well either. But you can charge through it with the MagSafe Charger or any other Qi charger.
Available colors: black, blue, clear, purple, various custom designs
MagSafe compatible: yes for charging, no for accessories
Apple's iPhone 12 | 12 Pro Silicone Case with MagSafe is lined with soft fabric on the inside, and the exterior is a smooth silicone surface that covers the back and edges of the phone, including the bottom edge. Instead of having one long opening for the speaker, microphone, and Lightning port, as cases for older-generation phones did, this case has dedicated cutouts. All of the buttons depress with a satisfying click, not dampened at all by the silicone over them, and even if you have short nails or fingertips, flipping the ring/silent switch should be easy. This case is among the first to support MagSafe, one of the iPhone 12's all-new features. A magnetic ring inside the case allows you to snap accessories onto the back, including Apple's MagSafe Charger and iPhone Leather Wallet with MagSafe. If you'd prefer a less expensive MagSafe case, or don't like the silicone texture, consider Spigen's Mag Armor. It's a good (if unexciting) basic case, and its MagSafe features work just as well as Apple's.
Caudabe's Sheath offers many of the same benefits as the Gripmunk with a slightly different design. The flexible case's entire exterior has a rough texture for extra grip, rather than just the edges. Although it's a bit unusual, we also like Urban Armor Gear's Mouve. The somewhat bulky case has extended corners for extra protection, and the plastic back and rubbery sides offer a good grip. It's a fun option if you're looking for something with a little more character.
Best leather case: Apple Leather Case with MagSafe
Best leather case for iPhone 12 and 12 Pro
High-quality leather, clicky metal buttons, brilliant colors, and MagSafe make Apple's leather case an easy pick.
$59* from Apple
*At the time of publishing, the price was $60.
Best leather case for iPhone 12 mini
No other leather case is as sleek or as handsome.
$59* from Apple
*At the time of publishing, the price was $60.
Best leather case for iPhone 12 Pro Max
The only downside to the Leather Case is it'll show wear over time.
$59* from Apple
*At the time of publishing, the price was $60.
Why it's great: Apple has been selling a version of its Leather Case since 2013, which launched alongside the iPhone 5S. In that time, no one has come close to producing something better. The iPhone 12 | 12 Pro Leather Case with MagSafe is the latest in that line, and it continues to hold the title of "best leather case." The materials are top-notch, the protection is as complete as this style offers, and the color options are great. And with the introduction of MagSafe on the iPhone 12 models, this year's version includes MagSafe, too. You can use any of the (currently limited) supply of MagSafe accessories without having to strip your phone down. There's really nothing else we could reasonably expect from a leather case.
Available in all three iPhone 12 sizes, the Leather Case is a thin, one-piece protector. It's all leather on the outside, as opposed to some cases that simply have a panel of leather set into a plastic or rubber case. The material feels premium, and it provides grip. Unlike some prior versions, it also goes all the way around the phone's back and sides, including the bottom edge, which we feel is an important improvement.
The Leather Case has aluminum button covers, allowing the buttons underneath a satisfying feel. There's a plastic ring around the rear camera array, which is slightly raised on the iPhone 12 Pro Max version. We're smitten by this year's color options, particularly the orangey-yellow California poppy.
Flaws but not dealbreakers: Most people buy leather for the looks, but any leather case will show wear, and this includes Apple's version. Across several years, we've seen various iterations of the Leather Case reach a pretty gnarly state. What starts out as handsome weathering becomes torn up, often down to the plastic shell underneath. If you plan on keeping your phone for more than a year, you might have to replace the Leather Case at some point. Apple also makes clear that if you use MagSafe, you'll likely see a ring develop on the case over time.
Available colors: Baltic blue, California poppy, saddle brown, black, red
MagSafe compatible: yes
We generally think that if you're choosing a leather case, you should get something that's all leather. But Nomad's Rugged Case is a good alternative if you want something that may be able to stand up to drops a little better, and if you're okay with a case that's only partially leather. Its body is flexible polycarbonate plastic, with a smooth sheet of leather over the back.
Combine your wallet and phone: Smartish Wallet Slayer Vol. 1
A wallet for iPhone 12 and 12 Pro
If you're looking to ditch your wallet, this case holds as many as three cards without sacrificing a nice design. But you should avoid it if you're planning to use wireless charging.
$20 from Amazon$20 from Walmart
A wallet for iPhone 12 mini
Although it's thicker than non-wallet cases, the shape fits comfortably in the hand.
$15* from Amazon
*At the time of publishing, the price was $20.
A wallet for iPhone 12 Pro Max
You can fit up to three cards, or some cash, in the wallet.
$20 from Amazon
Why it's great: Features like Apple Pay and Apple Wallet make it easier to digitize credit cards and carry fewer of them. That makes a wallet case that carries just a handful of essentials more and more practical. Smartish's Wallet Slayer Vol. 1 has been our favorite wallet case for years and continues to be our top pick for the iPhone 12. It builds off the basic Gripmunk design, with an added pocket on the back for up to three cards.
Because it's molded TPU, the Wallet Slayer Vol. 1 is the same thickness whether you have cards in it or not; a raised piece of material on the inside provides tension to hold them in place even if you're carrying fewer. Wallet Slayer Vol. 1 also covers a greater portion of your cards than other cases, leaving only a thumb-sized portion of the edge exposed on the left so that you can push the cards out. The design makes it easy to insert and remove those cards when you want to, but even with vigorous shaking, they otherwise stay in place.
Wallet Slayer Vol. 1 is thick enough that it likely won't work on most Qi chargers (it didn't on our top pick), and it definitely won't work with MagSafe.
Flaws but not dealbreakers: Any case that carries cards is going to add bulk to your phone. While Wallet Slayer Vol. 1 is thicker than a bare phone or one in a basic case, it doesn't feel overly thick. The card holder's tapered edges help it fit comfortably in your hand. If you want the flexibility of having cards attached only when you want them, and separate when you don't, Apple's Leather Wallet with MagSafe is a better option, because it attaches to MagSafe-compatible cases and can be detached when you don't want it on your phone.
Available colors: black, blue, purple, various custom designs
MagSafe compatible: no
Smartish has a second wallet case, Wallet Slayer Vol. 2, that's also very good. Its body is mostly the same TPU material, but the card holder part is faux leather with room for the same three cards. There's also a slot where you can insert a card to use it as a stand. We prefer Vol. 1 because it covers up more of your cards, but Vol. 2 is a little thinner. If you want a more premium wallet case, consider Mujjo's Full Leather Wallet, which adds a card pocket to the back of its great leather case.
A more protective case: Smartish Gripzilla
A more protective case for iPhone 12 and 12 Pro
With this case, you get extra thickness for extra protection, but you can still press the buttons and reach the Lightning port.
$20 from Amazon$20 from Walmart
A more protective case for iPhone 12 mini
The deep finger ridges and textured border should help you keep a hold of your phone.
$20 from Amazon
A more protective case for iPhone 12 Pro Max
Extended corners and shock-absorbing rubber inside should help prevent damage to your phone.
$20 from Walmart$20 from Amazon
Why it's great: Not everyone needs a super-protective case, but if you know you're likely to drop your phone a lot or put it in otherwise precarious situations, the Smartish Gripzilla offers more protection than our other recommendations do. This case is designed to help you hold on to your phone and, should you drop it, to help your handset survive the fall. The grooves molded into the sides of the case are a perfect fit for fingers, and they're deep enough to allow a really good grip without being especially obvious. A piece of soft rubber lines the inside of the TPU case, and that component, combined with raised corners with air pockets inside, should help absorb the shock from drops (nothing is a guarantee, though). Even with the case's relatively thick material, it's still easy to press the buttons and get to the Lightning port.
Cases in this category are often expensive, suggesting a correlation between price and protection. But the $20 Gripzilla proves that's not necessarily true. That price is affordable for a case, period, but particularly so for a case that will give you extra peace of mind.
Despite the Gripzilla's size, you can still use a Qi charger or even a MagSafe Charger to power up your phone while it's inside the case.
Flaws but not dealbreakers: By definition, a more protective case is bulkier than a less protective one. We don't think the Gripzilla is a brick, but it does make the phone about 50% thicker, adding ⅛ inch.
Available colors: black, gray, various custom designs
MagSafe compatible: yes for charging, no for accessories
You can find such great cases at such fair prices that we don't think it's worth it to spend extra money on a bigger brand name. But if you're willing to do that, OtterBox's Symmetry Series stands out. The company has done an impressive job of slimming down one of its flagship models over the years, to the point where it doesn't feel bulky the way you'd expect an extra-protective case to feel. The buttons click great, the colors are very nice, and you can wirelessly charge through the case. It's also available in an equally great MagSafe version.
We also like Speck's Presidio2 Pro, and the Presidio2 Grip variant. The dual-layer plastic and rubber cases are both advertised as surviving 13-foot drops, and it certainly feels like they would. The Pro version has a finger-grease-attracting soft-touch finish that otherwise feels nice, while the Grip adds raised ridges, molded into the plastic (on previous iterations of the case, the ridges were rubber and would tear).
A clear case to show off your phone: Spigen Liquid Crystal
A clear case for iPhone 12 and 12 Pro
A flexible plastic case with lots of protection and minimal branding, this model is the best clear case for the iPhone 12.
$12* from Amazon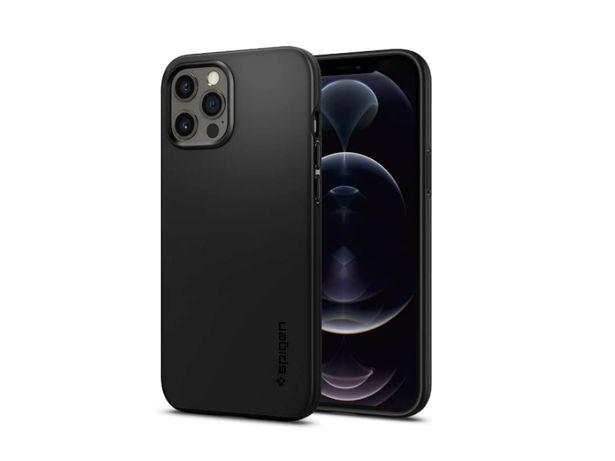 *At the time of publishing, the price was $11.
A clear case for iPhone 12 mini
Tiny dots along the back of the case help prevent unattractive air gaps.
$11 from Amazon
A clear case for iPhone 12 Pro Max
The rubbery material provides more grip than hard plastic.
$12* from Amazon
*At the time of publishing, the price was $11.
Why it's great: Using a clear case is a great way to show off an iPhone's design while keeping it protected. The iPhone 12 and 12 Pro have some particularly nice color options, and Spigen's Liquid Crystal case lets you display them. Made from a single piece of TPU, a flexible rubber-like plastic, this Spigen case is simple and protective. We like that its edges are totally transparent, in contrast to some other cases, which have colored borders that detract from the whole clear thing in the first place. The back panel is inlaid with a repeating series of small dots that prevent a "water splotch" look, something that used to be common on transparent cases. All the openings are properly sized, and the buttons click well.
The Liquid Crystal doesn't have a MagSafe ring, nor does it claim official support for that feature. We found that the MagSafe Charger worked through this case, but the Leather Wallet didn't adhere strongly enough for us to be sure it wouldn't accidentally fall off or get knocked off.
Flaws but not dealbreakers: All transparent cases yellow to some degree over time. It's usually a gradual process, and you may not even notice the effect unless you compare your worn case against a brand-new one. Although we expect the Liquid Crystal to show its age at some point, it's not expensive enough for us to be too mad about that.
Available colors: crystal clear
MagSafe compatible: yes for charging, no for accessories
Smartish makes a clear variant, Nothin' to Hide, of our main pick, and it's just as great as the opaque options. Liquid Crystal is better if you want a truly, wholly clear case, but consider the Grip if you're okay with frosted edges. ESR's Air Armor and Metal Kickstand Case are good alternatives if you want extra protection or a kickstand, respectively.
Any transparent MagSafe case is going to have to compromise: the magnetic ring is going to show through no matter what. Our favorite approach comes from Sonix, with The Match. The designers embraced the ring, making it a part of the design while still offering a transparent case. There's a metallic overlay on top of the ring, with ribbons extending from the top and bottom, to the edges of the case. It's a handsome design that looks far better than the approach of just sticking the magnet in there.
A superthin case we like: Caudabe Veil
A thin case for iPhone 12 and 12 Pro
Almost identical to every other thin case, the Veil has a slightly rougher texture that offers better grip.
$25 from Caudabe
A thin case for iPhone 12 mini
Don't buy a thin case like this for drop protection; it will help prevent scratches.
$25 from Caudabe
A thin case for iPhone 12 Pro Max
The Veil is the next-best thing to having a totally bare phone.
$26 from Caudabe
We think you should choose a case that offers some shock-absorbing qualities, but we also understand there are those who want the thinnest possible case and are willing to give up more significant protection. In that case, we recommend Caudabe's Veil. Among a handful of nearly identical thin cases, it's better enough to earn our recommendation.
All the cases in this category are essentially the same superthin piece of plastic molded to wrap around the phone while adding next to no bulk. The Veil, and the rest, don't have any sort of soft materials or air pockets for absorbing shocks, or button coverage. They're better suited for adding some grip and preventing scratches to the iPhone's rear glass than preventing breaks.
We prefer the Veil to the competition because it has just a bit of texture, providing for a better grip than cases with a totally smooth surface. It's not rough or uncomfortable in any way. Otherwise, there are no material differences between this case and the rest of the many superthin cases we've tried.
Flaws but not dealbreakers: As mentioned, the Veil (and every other superthin case) won't do much to prevent your phone from breaking if you drop it. Only choose it if you're comfortable with that compromise. The color options are also more limited than we'd like. If you prefer this style but want a different color, check out the competitors we mention below.
Available colors: black, frost
MagSafe compatible: yes for charging, no for accessories
Totallee's Thin Case and Peel's Super Thin Case are identical to one another, and similar to Caudabe's Veil. Both have a smooth surface, rather than the textured finish we prefer on the Veil, but they offer a wider color selection. They also each have a two-year warranty with one free replacement during that period—that's double what Caudabe offers—but they're a little more expensive to start. Choose one of these if you prefer the colors or think you're likely to take advantage of the warranty.
An accessory-friendly case: Quad Lock
An accessory-friendly case for iPhone 12 and 12 Pro
Quad Lock's case easily attaches to a wide range of mounts, including for your bike and car.
$30 from Amazon$30 from Quad Lock
An accessory-friendly case for iPhone 12 mini
Even though it's so versatile, the Quad Lock case isn't much larger than a standard case.
$30 from Quad Lock
An accessory-friendly case for iPhone 12 Pro Max
You can swap between activities without having to remove or otherwise change out your case.
$30 from Quad Lock
The Quad Lock Case is the best option if you like to use your phone for activities like riding a bike or motorcycle, running, looking at directions while driving, and more. The sleek TPU case has a clever attachment mechanism on the back that works with an array of accessories, but it isn't much thicker than a standard case.
We like the Quad Lock because you can use it just as you would any other case without much extra bulk, and it has the widest and most secure range of mounts we've found among the cases like it. On the back of the case is a roughly 1¼-inch, X-shaped mounting point housed in an ever-so-slight bump. Each of the mounts has a corresponding relief of that shape, allowing for a twist-and-lock attachment: Just twist a quarter turn, and the pieces lock in place.
Compared with other accessory cases, Quad Lock's lineup is more robust with a dozen different mounts. This includes the Car Mount, Sports Armband (our upgrade pick for the best armband), Belt Clip, Bike Mount (a staff favorite), Out Front Mount (also for bikes), Wall Mount, Universal Adaptor, Home/Office Desk Mount, and Tripod Adaptor. If you don't find yourself going back and forth between at least a couple of these accessories, the Quad Lock system likely doesn't make sense for you. But if you can see yourself snapping your case in place when you want to go for a ride or a run, it's a great option.
Flaws but not dealbreakers: The Quad Lock case comes only in black, so if you're looking for something with a little more personality, it may not be for you. If you use a wireless charger, you may find that the extra thickness either prevents or at least interferes with charging (MagSafe charging simply doesn't work). Quad Lock sells an expensive wireless charging head that works with its car and desk mounts and addresses the problem for those who encounter it.
Available colors: black
MagSafe compatible: no
Spigen's Gearlock Bike Mount Case is quite similar to the Quad Lock Case (to be honest, it feels just shy of a knockoff). It utilizes the same sort of twist-to-lock attachment system for accessories and comes only in black. It has a layer of shock-absorbing foam inside, which gives it a leg up over the Quad Lock, but it falls short when it comes to accessories. In contrast to the dozen mounts Quad Lock offers, Spigen only has a universal adapter, bike stem/handlebar mount, out front bike mount, and action cam mount adapter.
Why you should trust us
I've been Wirecutter's case reviewer since 2014, and in my career as an accessories writer, I've reviewed around 2,000 iPhone cases. That number spans multiple generations of Apple devices, including every iPhone since the iPhone 4 and every iPad. I've probably handled more iPhone cases than almost anyone on the planet, so I have a particularly experienced perspective and depth of knowledge when it comes to these items.
What makes a great iPhone case
When choosing the best cases, we consider a huge number of factors, from objective measures such as physical dimensions and level of protection to subjective assessments of look and feel.
Although we have been testing cases for many years and have had some consistent picks across multiple iPhone generations, no case automatically becomes a pick just because versions of it have been picks in the past. With the iPhone 12, 12 Pro, 12 mini, and 12 Pro Max in hand, we put each new case on the phones to see how well it fit and functioned.
While we have a variety of recommendations across various styles, we consider all of our picks on the following criteria:
What to look forward to
We're getting more cases as they become available, including thin and folio-style cases, and we'll continue to spend time with our early favorites. We expect to update this guide and add more information regularly.
The competition
ESR's Soft Case is the first third-party case to work with the MagSafe attachment and charging system thanks to an embedded magnetic ring. Unfortunately, the case itself feels very cheap, and the material around the Lightning port and mute switch pulls away too easily and feels like it may rip with normal use.
Moment's Thin Case is made of TPU and is quite similar to Smartish's Gripmunk, though significantly more expensive. It has shock-absorbing air pockets along the inner perimeter but no grips on the sides. If you're into photography and third-party camera lenses, it's worth considering because it's compatible with Moment's Drop-in Lens Mount (one is included), which allows you to attach the company's lenses.
Spigen's Liquid Air Armor comes in only one color—black—and the raised triangle pattern on the back probably isn't for everyone. If you like the look and feel, though, it's a good, inexpensive option with a fair amount of grip and notably clicky buttons. The company's Neo Hybrid takes that same design and adds a plastic border, which provides some contrast but doesn't necessarily look better.
Most basic cases are primarily flexible plastic or rubber. Caudabe's Synthesis, on the other hand, combines a frosted, hard-plastic back with a shock-absorbing border. We found the buttons to be a little stiff (Caudabe says it's tweaking them), and we generally prefer a case made of TPU or a similar material, but the Synthesis has a sleek design that makes it a good option for those who prefer plastic.
We don't like the one long volume button cover on the BodyGuardz Split, and we found its many edges to be unpleasantly sharp to the touch.
The buttons on Urban Armor Gear's Outback Bio are very difficult to press unless you hit them dead-center.
Urban Armor Gear's Anchor is hard to install, and we don't like the single long volume button or hard plastic back very much.
Incipio's Organicore's volume buttons are far too stiff. We couldn't tell when presses were registering or not registering without looking at the volume indicator on the phone's screen.
We found the buttons on Incipio's Duo Case to be far too stiff, and we don't like the creaking noise the dual-layer case makes as the rubber rubs against the plastic, especially during installation.
OtterBox's Figura is a surprising miss, considering it comes from a respected case maker and is the first third-party case with MagSafe that Apple has featured in its stores. The soft TPU case doesn't look or feel like it should cost $50, and the MagSafe element, a flat panel with the embedded magnetic ring, looks more like an afterthought than an intentional design. The Aneu feels better, with a hard plastic back and rubber edges, but again, it doesn't feel like a premium case, just a fairly nice one.
Lifeproof's Wāke is a simple plastic shell with a few design flourishes. While we appreciate that it's made from recycled materials and the company makes donations to water-based charities when you buy the case, it's simply too expensive for what you're getting.
Caseology's NanoPop (from the same parent company as Spigen) feels similar to Apple's Silicone Case, which isn't our favorite texture, and it's too thin to make us feel well-protected from a drop.
Caseology's Legion has edges that are so roughly textured, they feel like sandpaper. It's just not pleasant to hold.
We don't like the fake-metal look of Caseology's Parallax, and overall, we think the design is more niche than general interest.
Caseology's Dual Grip is a plastic shell, the least impressive case style. It offers virtually no shock protection. You can do far better for the price.
Tech21's Evo Slim is just a very plain, thin TPU case that feels like it should cost $15, not $30.
The buttons on Gear 4's Rio Snap feel mushier than we prefer, and while it's a totally fine case, it's not worth its significant price premium over the MagSafe cases we recommend.
Apple's Leather Sleeve is more useful for protecting your phone when you're not using it than when you are. The idea is that you'll pull your phone out of the leather pocket when you need it. A small window displays the time and will show you if a call is coming in, but despite the earpiece cutout, you can't actually answer calls while the phone is in the sleeve. We also didn't see any other notifications pop up through the window. In addition to the phone itself, there's room for two or three cards, and the Leather Sleeve comes with a color-matched wrist strap. It also supports MagSafe charging and changes your phone's screen to match the color of the leather variant you choose while it's in there. We think most people should get a case that protects their phone full-time, rather than spend $130 on one that only offers part-time coverage.
Mujjo's Full Leather Case is the next-best case compared to Apple's, but there's no good reason to choose it over the Apple option. The bottom edge is exposed, and the buttons, which are molded into the leather, and squishier.
ESR's Slim Full Leather Case simply feels too cheap. The pebbled-leather case costs half of what Apple's does, but the material feels half as premium at best. We give ESR credit for the nice buttons, but we think that if you're going to choose a leather case, you should spend a bit more and get the real deal.
Urban Armor Gear's Metropolis LT is a fine option if you want something a little more protective, but for the same price as Apple's Leather Case, we prefer full leather, as opposed to just the panel set into rubber.
Bellroy's Phone Case (also available in a wallet variant) combines rubber and plastic, and on our review unit, the volume buttons' tactility was too far dampened to be enjoyable to use. The same goes for its 3-card wallet case, especially when you take its high price into account.
Spigen's Slim Armor CS is a bulky-feeling case. It can hold only two cards underneath its slide-open door, and the design makes us worry that the door could snap off.
Lifeproof's Nëxt is one of the most expensive cases we've tested so far, and although it promises to survive drops from 2 meters, it doesn't offer the waterproofing or dustproofing the brand was once known for. Those aspects may be less important as iPhones themselves become more resilient to the elements, but we don't think there's any reason to spend $80 on a case that offers only drop protection.
Lander's Vise makes the iPhone's buttons feel stiff, and the covers are in line with the rest of the case, so they're difficult to feel by touch even though they're ribbed. The hard-plastic ridged back is a love-it-or-hate-it kind of thing; we lean toward the latter camp.
The Lander Torrey is a rather plain-looking case—not a bad thing in and of itself—that makes the phone's buttons far too hard to press.
Casetify's Ultra Impact comes in a wide range of see-through colors, including totally clear, and you can add up to eight characters printed along the back for free. Rubber bumpers on the outside of the four corners certainly offer extra protection, but they're kind of ugly, and we just can't deal with the brand's name being printed around the camera lenses.
To quote the kids, ESR's Machina Tough Case ain't it. Although it does feel like it'll stand up to a drop, the fake bolts make it look more like a toy than something worth throwing on your $800-plus phone. Some people will like the built-in kickstand.
Only a small percentage of people need the level of protection offered by OtterBox's Defender Series Pro (or its belt clip), but if you do need that, it's not a bad option at all. Yes, it's expensive, and yes, it's bulky. But it is thick in the right ways, with plastic and rubber layers and a foam cushion inside, all in the name of drop protection.
Generally we don't like multi-piece cases because they're a hassle to put on and remove. OtterBox's Commuter Series falls into that category; we'd rather spend $10 on the slimmer, one-piece Symmetry Series.
Speck's Presidio2 Armor Cloud certainly feels like it could take a tumble, but if you're going to be spending this much on a case, you deserve more than just one color option.
The buttons on Speck's Presidio Perfect-Clear and Presidio Perfect-Clear with Grips are far too tight. The kind of pressure we'd normally expect to trigger them doesn't even register. They're a little bit better on Presidio Perfect-Mist, but still don't feel quite right.
Incipio's Grip is a fairly simple case, mostly plastic with some rubber for shock absorption. The raised, repeating trilobe pattern along the edges may feel too sharp for some people's tastes, though.
Incipio's Slim is a no-frills option that just doesn't feel like it justifies its $40 price tag.
Survivor's Strong, Endurance, and Extreme are cases in the same family, on a continuum of protection. Strong is rated to stand up to 10-foot drops, Endurance can take 14-foot falls, and Extreme should survive 16-foot tumbles. We'd rather see one great case than three, especially with such minor distinctions between them: Who wouldn't rather have the extra 6 feet of drop protection? The cases otherwise look and feel nice if you like the styling, although we wish the volume buttons were a bit more distinct from one another, and that the two-piece Extreme came with installation instructions.
We don't have any complaints about Gear4's Wembley Palette, other than its limited color options. The TPU case is lined along its top and bottom edges and corners with D3O, a shock-absorbing material that should help mitigate damage from drops without adding much bulk. If the case came in more than just the translucent gray color option, it'd have more broad appeal.
On the other hand, Gear4's Holborn Slim doesn't feel like a $40 case. Although it also integrates D3O, it feels like a cheaper option and less protective.
Apple's Clear Case with MagSafe is a disappointing miss. We much prefer a case with some obvious drop protection to this model's fingerprint-magnet polycarbonate body. The buttons are just a bit more flush to the case than we prefer, and the bottom edge is open, leaving it exposed to damage. The MagSafe inset is a mixed bag: Although it's functional, providing support for charging and accessories, the large white ring and vertical line underneath mar the otherwise clear case.
Caudabe's Lucid Clear is a somewhat slippery piece of plastic with no button protection. You can do better for the price.
Nimble's Disc Case is one of many eco-friendly cases appealing to green sensibilities. It's made of recycled CDs, it comes in plastic-free packaging, and the company offers free recycling for an old case when you order. To some people, those aspects are worth the premium. We're not fans of the volume button cover, though, which consists of one long strip rather than designated "up" and "down" protectors. Our review unit also arrived with a gnarly smell, but that dissipated over a few days.
Spigen's other transparent case, the Ultra Hybrid, is perennially popular. Instead of being all flexible plastic, it has rubbery sides and a hard back. Our main issue with the case is how it handles the buttons: The covers are flush with the body of the case, with only small indents at the top and bottom differentiating them. Finding them by feel is more difficult than on most cases that have raised protectors.
The BodyGuardz Stack has a frosted perimeter as well as along the bottom third of its back, which may turn off some people who want a wholly transparent case, but our bigger concern involves its jiggly-feeling volume and power button covers—they would absolutely drive us mad over an extended period.
Rather than being totally clear, the BodyGuardz Avenue is available only with a black or blue border. The case makes the buttons hair-trigger sensitive yet dampens the clicky feeling, and we found the edges where the back meets the sides to be uncomfortably sharp.
Casetify's Impact Case has a tacky-feeling back that may grip pockets too tightly, as well as overly pronounced logos circling the camera array.
Griffin's Survivor Clear is a good option if you're looking for a clear case that might offer a bit more protection, as it has impact-absorbing material around the entire perimeter (making it look more frosted than totally clear). We found that the volume buttons felt a little too flush with the side though and would prefer if there were more than just a small indent dividing them.
The border on Caseology's Skyfall is plastic painted to look like metal, which we find to be generally cheap looking.
Tech21's Evo Clear is a nice option if you're OK with a slightly bulkier clear case that promises 12-foot drop protection.
Gear4's Crystal Palace Snap with MagSafe is very difficult to install, and we don't think it looks much nicer than Apple's transparent case.
Rokform's Crystal Case and Rugged Case are both bulky, heavy cases that work with a proprietary magnetic accessory system. They both block access to MagSafe charging and standard Qi charging as well.
About your guide
Nick Guy
Nick Guy is a former senior staff writer covering Apple and accessories at Wirecutter. He has been reviewing iPhones, iPads, and related tech since 2011—and stopped counting after he tested his 1,000th case. It's impossible for him not to mentally catalog any case he sees. He once had the bright idea to build and burn down a room to test fireproof safes.