Venice's 'unbreakable' women of glass - BBC Travel
The sound of techno-punk confirmed I was in the right place. In their instructions on how to reach El Cocal Glass Studio, co-owners Chiara Lee Taiarol and Mariana Oliboni had said to "follow the music" as I made my way down a dusty alley and into an industrial complex off the touristy streets of Murano, the tiny island in the Venetian lagoon known globally for its glassmaking craft. "You'll hear us," they had told me over the phone.
Stepping inside their workshop, which was lit up by disco lights, the music was even louder. Three women – Taiarol, Oliboni and Natalie Nikolova, a recent addition to the team – were moving swiftly around the space as if in sync with the beat, taking turn to place a long ferro sbuso (a metal blowpipe used to gather molten glass and begin the shaping process) into a red-hot, 1,200C refractory stone oven. Their working rhythm was deliberate, their movements almost choreographic.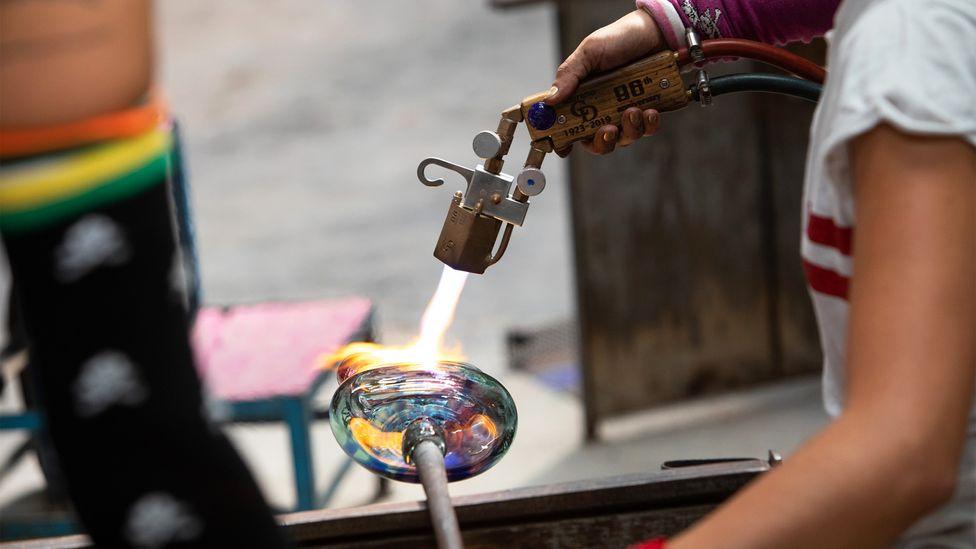 "The music powers us up," Oliboni said, as she saw me and went to turn the volume down. "We do things a little differently from other studios, but we like it this way."
The techno-punk is only a part of it. El Cocal is Murano's first female-owned glass furnace. "Different" is the watchword for its entire essence – though you could say revolutionary, too.
For much of its 700 years' history – the Republic of Venice moved all glass furnaces and their artisans here in the late 1200s to contain the risk of fires in the city and, some say, protect the techniques behind the art – Murano's glassmaking sector has been notoriously male-dominated, often by families that have been in the business for generations. Sons, not daughters, would inherit the furnace and its trade secrets, beginning training as young as nine to master the craft of Venetian-style glass (the official descriptor for glass manufactured on the island).
"While you would find them doing lampwork (a type of glasswork in which a torch or lamp is used to melt the glass) decorating glass objects or serving as impiraresse (bead-stringers) for jewellery-making, women were nowhere to be seen in the workshops themselves," said Rosa Barovier Mentasti, a historian specialising in the history of Venetian glass. "Molten glass can be extremely heavy to handle, so glassblowing was considered to be too much of a physical discipline for them to do."