Why We Love the Spigen Glas.tR EZ Fit Screen Protector
When I worked at the Apple store more than a decade ago, hundreds of customers asked me to put screen protectors on their brand new iPhones. "Listen, I'm pretty good at it, but I'm not responsible if I screw it up," I'd tell them. Back then you could manually line up the protector, using the home button and earpiece as your guides. So with some practice it wasn't too hard—and I had plenty of practice.
The best screen protector for iPhone 12 and 12 Pro
Expect great glass and the best installation tool for proper alignment.
$15* from Amazon
*At the time of publishing, the price was $14.
Fast-forward to today, and a lot has changed. Now most screen protectors are thin sheets of glass instead of plastic film. With the edge-to-edge design of the iPhone X and the phones that have followed, getting a straight installation is difficult because there's nothing to line up to. That's why a great alignment tool is the key to having a great screen protector—and Spigen's Glas.tR EZ Fit is our favorite.
For the same price as a Chipotle burrito with chips and guac, the Glas.tR EZ Fit gives you two screen protectors that are nearly impossible to misalign and as scratch-resistant as any others we've tested. Although you can pay upwards of $50 for a single piece of glass from bigger-name companies, they don't actually offer any tangible benefits, and they're definitely not worth almost 10 times more. And this protector is a heck of a lot cheaper than the $230-plus price Apple charges for an out-of-warranty screen repair on an iPhone 12 or 13.
I've been using this screen protector on my iPhone 12 Pro since I named it our top pick in the fall of 2020, and almost nine months later, it still looks like new. There are a few tiny scratches, but you have to actively look for them, and they disappear when the screen is on. Most importantly, my phone's screen is not scratched because the Spigen protector has taken that abuse. And even after more drops than I'd like to admit, there aren't any chips or cracks in either layer of glass.
We'll be testing new screen protectors for the iPhone 13 soon, but expect the Glas.tR EZ Fit to be at least a strong contender, if not remain our top pick.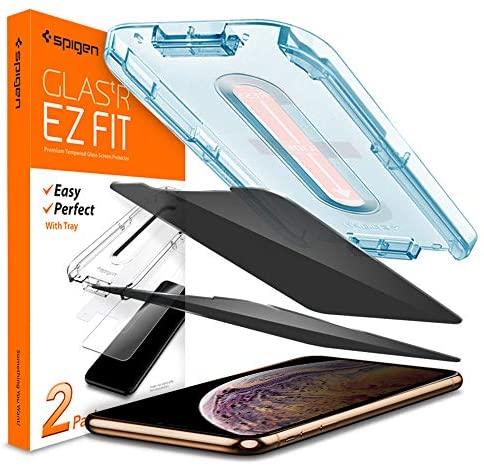 How it started
After Spigen's Korean development team realized they'd all dealt with an unsuccessful application of their screen protectors, they spent three months and went through about 100 iterations before landing on the final design.
"The idea and concept that drove us was that of a press on, like an old-fashioned print shop, where once something literally pressed, it would stay put," said Gloria Choi, Spigen's development assistant manager.
With the basic concept in place, Spigen said it takes about a month to update when new devices are released. We've already tested the 11-inch and the 12.9-inch iPad Pro versions, and we found them to be equally great, which is quite a feat considering the much larger screen size. Going forward, Choi hopes to reduce the environmental impact of the single-use plastic trays. "We've been trying to encourage more sustainable practices by adding the recycling code to all EZ Fit trays while we work on developing a more eco-friendly version," she said.
How it compares
Most screen protectors are similar in their clarity, smudge resistance, and how well they prevent scratches. The difference comes in ease of installation. That's why Spigen's protector is our favorite for the iPhone 12 (and some older iPhones).
Read more in our guide to the best iPhone screen protectors.
When to buy
Deals events like Black Friday and Prime Day are likely to be your best bet, but we haven't posted one from Spigen on its screen protectors. It's best to just pick one up when you get a new phone.
The numbers
Street price:$13
Best price we've ever seen:$12
Make it last
There's no secret to maintaining your screen protector. Just try not to drop your phone! But if you do shatter the Glas.tR EZ Fit (something we've yet to see happen!), there's a second one in the box. Just peel the broken one off and start fresh.
About your guide
Nick Guy
Nick Guy is a former senior staff writer covering Apple and accessories at Wirecutter. He has been reviewing iPhones, iPads, and related tech since 2011—and stopped counting after he tested his 1,000th case. It's impossible for him not to mentally catalog any case he sees. He once had the bright idea to build and burn down a room to test fireproof safes.