All about me! The era of the selfie stick
Love it or hate it, 2015 has been, without a doubt, the year of the selfie. Whether you were standing in front of the Eiffel Tower, meeting the cast of "Mad Men" or showing off your new haircut, everyone across your social media platforms knew exactly what you were up to in 2015. And with the invention of the now somewhat notorious selfie stick in 2014, it seemed that the selfie is, for better or worse, here to stay.
Notorious might be a bit of a stretch, but a device that started as a harmless tool to help over-share vacations has snowballed into a near-controversial issue, with selfie sticks increasingly banned around the world for reasons that range from safety to privacy to just plain obnoxious behavior. Walt Disney World's ban on selfie sticks earlier this year was probably the most publicized, but it is just one in a long list of landmarks and tourist attractions doing the same.
The selfie fad started humbly in 2010 when Apple introduced the iPhone 4 with the front-facing camera, inspiring people to snap self-portraits and broadcast them across their social media platforms.
Today, the practice has mushroomed into a full-on phenomenon as tourist attractions, city streets, national parks and landmarks are packed with travelers memorializing their self-portraits in front of the world's destination icons.
As of June, it was reported that 300 million selfies had been posted to Instagram to date, according to DMR (formerly Digital Marketing Ramblings).
And that doesn't even take into account SnapChat, Facebook or Twitter.
The selfie stick, an extendable metal rod to which one can attach a smartphone, revolutionized this fad by making it easier for users to capture themselves at wider angles beyond the reach of one's arm. Some of the latest models are even equipped with remote or Bluetooth controls that enable the user to better time photographs. But if you've traveled anywhere in the last two years you're probably quite up to speed on this phenomenon because, let's face it, they are everywhere.
The use of selfie sticks on rides like the Big Thunder Mountain Railway prompted Disney to ban the devices in its parks. Photo Credit: Garth Vaughan
The ubiquity of selfie sticks has met with mixed reviews. While they are, in fact, sweeping the globe (more than 100,000 selfie sticks had been sold as of December 2014, according to Bloomberg News), not everyone is a fan.
A spokesman for Disney said of Walt Disney World's decision to ban selfie sticks from its theme parks around the globe, "The main reason we did this is because it has become a safety concern for guests and cast. Even though they were never allowed on roller coasters and rides, people would still bring them in."
"They shot photos while riding Big Thunder Mountain Railroad with sticks," the spokesman said. "We had to stop the rides and take time to reload and get them going again. It was a big safety issue for everyone on the ride. That was the reason we made that decision."
The ban became effective in the U.S. on June 30 and at the international parks on July 1. Selfie sticks are, however, still allowed in Downtown Disney and at Disney hotels and resorts.
Disney has been far from alone in the fight against selfie sticks. The Coachella and Lollapalooza music festivals banned the devices this year, as have Beijing's Forbidden City, the Van Gogh Museum in Amsterdam, all of Mecca in Saudi Arabia, the Sistine Chapel, Versailles, the Metropolitan Museum of Art in New York, the National Gallery in London and all sports stadiums in Brazil.
As of June, it was reported that 300 million selfies had been posted to Instagram alone, not to mention Facebook, SnapChat and Twitter. Photo Credit: Production Perig/Shutterstock.com
"Banning selfie sticks in [Brazil's] stadiums began as a gradual process in a couple of cities and states," said Joao H. Rodrigues, U.S. & Canada Media Relations executive in charge of the international promotions for the Brazilian Ministry of Tourism and the Ministry of Sports.
"Local police, in charge of security at the stadiums, realized that people could be injured by selfie sticks, either by accident or during fights,"Rodrigues said. "Fast forward a few months and now all soccer stadiums in the country have banned them."
Selfie sticks are also not allowed during most Carnival parades and, most recently, the organizers of Rock in Rio announced that they wouldn't allow anyone to bring selfie sticks to the concert grounds.
In places like national monuments, theme parks and museums it is understandable that hordes of tourists toting 2-foot-long metal rods could gum up the works.
Not only do they disrupt the aesthetics of otherwise picturesque photo ops, they present safety and privacy issues.
London's National Gallery issued a statement banning selfie sticks as part of its promise to protect paintings, copyrighted materials, individual privacy and the overall visitor experience.
Selfie sticks not welcome here
A few other locations banning selfie sticks:• Colosseum, Rome (pictured)• Smithsonian museums, Washington• Albertina Museum, Vienna• National Portrait Gallery, London• Museum of Fine Arts, Boston• Museum of Modern Art, New York• Getty Center, Los Angeles• Emirates Stadium, London• O2 Arena, London• SSE Wembley Arena, London• O2 Academy Brixton, London• Cooper Hewitt Museum, New York• Guggenheim Museum, New York• Frick Collection, New York• Hirshhorn Museum and Sculpture Garden, Washington
In other places around the world, the ban on selfie sticks is more widespread and extreme, as people have gone above and beyond in an attempt to out-selfie their fellow followers on Instagram and Facebook, suggesting that the selfie craze is reaching ridiculous levels.
In July, the Russian Interior Ministry revealed a brochure highlighting selfie safety tips; according to Tass, Russia's news agency, at least 100 people were injured in 2015 while taking selfies, and 10 people died.
"The guide entitled 'Take Safe Selfies -- A Cute Selfie May Cost You Your Life' aims to minimize the number of selfie fatalities and stop the dangerous selfie trend," Tass reported.
Similarly, Lake Tahoe felt it had to go so far as to ask visitors to refrain from taking selfies with bears. As if it were not abundantly obvious, the destination has had to spell out specifically that having one's back to the animals presents a safety issue, a clear indication that common sense flies out the window in the name of out-selfie-ing Instagram and Facebook followers.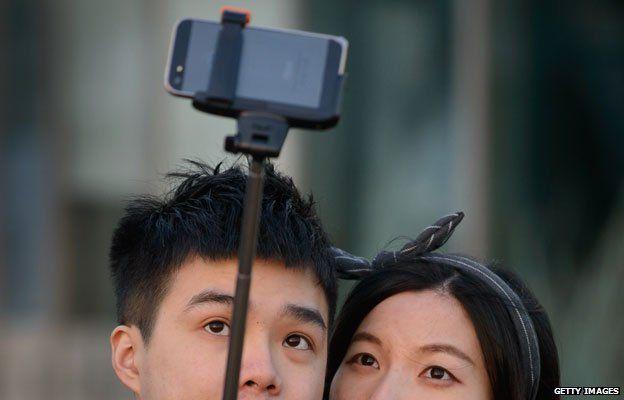 South Korea banned the selfie-stick nationwide last November, although since then the government has limited this ban to sticks that use Bluetooth technology because, according to the country's radio management agency, the sticks might interfere with other devices using the same radio frequencies and therefore are seen as "communication devices."
Still, despite the bans, despite rising safety issues and despite overall questions of common sense, selfie sticks are as prevalent as ever. The public will not be denied a quality selfie, and photophile suppliers are only too happy to feed the frenzy.
In December 2013, Turkish Airlines released a YouTube video ad called "Kobe vs. Messi: The Selfie ShootOut," in which Kobe Bryant and Lionel Messi engage in an epic battle of selfies.
The spot, which was voted "ad of the decade" by YouTube as part of its 10th anniversary celebrations, has drawn 142 million views to date.
In fact, many travel brands -- hotels in particular -- are capitalizing on the selfie trend as a marketing and promotion tool, realizing it can be a brilliant promotional strategy since guests who show themselves having wonderful experiences offer priceless free publicity by inspiring their friends and family back home to have similar experiences.
Kimpton Hotels & Restaurants noticed the volume of guests posting selfies at Kimpton properties: at the pool, the beach, at Wine Hour and even hundreds of #RockTheRobe selfies in its signature animal-print robes.
"We love the 'selfie movement' because it gives us a glimpse into what people love about the brand and what they are experiencing and feeling at our hotels," said a Kimpton spokesperson.
"Next, we wanted to find a way to reward people for continuing to post and share these moments with us."
In order to make the selfie experience easier, the brand has been hosting an ongoing social contest built around selfies and has stocked every hotel with selfie sticks, which are available for guests to borrow from the front desk. Using the hashtag #AdoreTheSelfie, participants post a selfie and are automatically entered to win an array of prizes.
Similarly, the JW Marriott Desert Springs Resort & Spa in Palm Desert, Calif., has an Indulge Your Selfie promotion: Guests are given a loaner selfie stick upon arrival and are encouraged to tag themselves around the property with a variety of hashtags.
The Conrad London St. James encourages and even rewards the taking of selfies. Photo Credit: Courtesy of 2015 Conrad Hotels & Resorts
The Conrad London St. James' #Selfie Package includes an overnight stay with breakfast for two in a Grand Deluxe Room plus a selfie stick to help capture the highlights of the trip. Guests who email the hotel concierge with their favorite selfies receive a box of personalized Boomf marshmallows with the images printed onto them.
Starwood's Hotel Grand Bretagne in Athens even has a designated "selfie spot" on the property.
To celebrate its 90th anniversary this year, Washington's Mayflower Hotel has been holding the #90YearsMayflower contest, asking guests to capture their favorite moments at the hotel with on-site selfie sticks.
A larger issue?
Wherever you might stand on the selfie stick, its rise in popularity is part of a larger issue.
Arguments about self-absorption aside (journalist David Carr called the selfie stick the Narcisstick in a New York Times article in February, while Emma Haslett called it the "wand of Narcissus" in an article on the City A.M. website back in January), the overwhelming need to constantly connect and instantaneously over-share our experiences as they are happening may actually be removing us from the experiences themselves.
As the U.S. and the world climbed out of the recession, the shift in the travel landscape turned from packaged tourism to the need for more "experiential travel."
Skift's "The Rise of Experiential Travel" report asserted, "People want to travel better, on a deeper emotional and more personal level. Consumers in growing numbers are shying away from the prepackaged travel brochure, or in some cases, the prepackaged travel brochure looks a lot different than it did just a few years ago."
Social media played a big role in this shift, as travelers showcased themselves on vacation, dining with food bloggers in Bangkok or spending the night with local tribes along the Inca Trail.
The selfie played a big role in spreading the word about this type of travel experience, as the selfie was about sharing those experiences and telling that story.
But as this fad has morphed and mutated, many question whether it is pulling travelers out of "the moment" and onto the Internet, just so they can alert everyone at home to what they are doing, without actually taking time to enjoy it. Is travel becoming all about the "selfie moment"?
Today, some travelers look to tick destinations off of a list without spending time to appreciate where they are and what they are seeing.
Some argue that instant gratification and constant access are the reasons social media has prevailed. Anything you could possibly want to know or share is a click away. Free WiFi is widely considered the norm in hotels, restaurants, bars and coffee shops as the desire to always be able to connect is overwhelming the travel sphere.
Similarly, travel websites have shifted from longer-form articles to "listicles": online content in the form of a numbered or bullet-point list. Articles with headlines like, "15 places that should be on your travel bucket list" or "25 things to see before you die," coupled with the selfie fad, are inspiring travelers to make travel about tick lists and selfie ops rather than delving deeper into the actual moment and indulging the escape mentality of travel.
It isn't necessarily that the selfie or the selfie stick is wrong-headed, but it has helped to foster a culture that is obsessed with constant connection, hashtags and followers, seeing the world through a smartphone screen rather than through their own eyes in the moment that they are actually experiencing it.