In Outfitting The MMJ, Lightness And Flexibility Top The Wish List
Michelle Oliver, lifestyle multimedia journalist (MMJ) at WDIV Detroit, was facing a challenge: How to capture the visceral feeling of curling, a winter sport, for her viewers?
Her solution: Attach her GoPro camera to the broom and stone, curling's essential kit.
Because MMJs are out in the field solo, they often have to improvise to get the shots they want.
Putting the GoPro in unusual places "lets me get a lot of cool angles," Oliver says. The focus is on getting great footage that can be used to put together a "nice piece," she says.
The long-form piece, which aired in February, used footage from her main Sony camera, a GoPro and her iPhone and showed how Detroit residents could do curling, a popular Olympic sport, right there in town.
She put a GoPro at ice level on the broom that the players scrub the ground with and found that it worked almost like a dolly, gliding across the ice and "giving nice smooth shots from the ice level perspective," Oliver says.
BRAND CONNECTIONS
WDIV Detroit MMJ Michelle Oliver attached a GoPro to a curling stone to capture this shot. For the story, she also attached the GoPro to a curling broom, which provided ice-level views as well as a bird's eye view when held aloft like a boom. (Source: WDIV Detroit)
She also used the broom like a boom, holding it overhead to "get a cool bird's eye view without having to use a crane," she says.
Additionally, she attached the GoPro to a curling stone. "The whole point is that the stones curl or curve as they slide, and I wanted to show that," she says.
Whether they're using a camera held by hand or on a tripod, an iPhone on a selfie stick or a GoPro attached to a something in motion, or a combination of cameras, MMJs are focused on getting the shot and telling the story creatively.
But video alone doesn't make a great package, so MMJs regularly carry a lot of gear in addition to cameras. Tripods, lights, microphones, extra batteries, cell phones, laptops and bonded cellular backpacks are all components you might find in an MMJ's kit. It's a lot to haul around, and MMJs wish for lighter equipment that is easier for a single person to use. Vendors are working to meet those needs.
Video Arsenal
Oliver, who has been an MMJ since 2015, uses a Sony PXW-Z190V along with the camera on her iPhone and a GoPro.
"I usually use a combination of two sources of video," she says.
The Sony strikes a nice balance between being a good camera that's not too heavy, she says.
"GoPros are great, especially if you want to get a multi-camera shot," she says.
They offer a lot of versatility. Oliver has put GoPros on hockey sticks, a broom during a curling story, and herself, among other things.
"I will wear them sometimes if I'm doing an active shot," she says.
Her phone camera gets a lot of use as well, such as for a cross-country skiing story.
"You can't drag a big camera with you while you're cross-country skiing, but you can take your phone. That's how I did all my standups," Oliver says.
Whitney Miller, a day turn MMJ at WCPO Cincinnati, uses a Sony camera, a pair of iPhone cameras and, when she can, a GoPro that the station's reporters share.
Phone "cameras are so much better than what they were," she says.
She often uses her cell phone, placed on a selfie-stick tripod, as a secondary camera and for standups. Other times, she only uses her cell phone camera, she says.
Not much of her kit has changed in the decade she's worked as an MMJ, although she's added the use of the GoPro and upgraded equipment along the way.
"I don't think I ever leaned on a cell phone like I lean on it now," Miller says.
WCPO Cincinnati MMJ Whitney Miller uses her iPhone out in the field.
Tomas Hoppough, a national MMJ for Scripps, uses a pair of mirrorless cameras for his features, which tend to be long-form with a documentary-style storytelling approach. The Sony A7S3 is his A camera and the Sony A7R3 is his B camera.
"I'm very low profile with those two bodies," he says. He also carries the FE 16-35 mm F2.8 G Master lens, FE 24-70mm F2.8 G Master lens and 70-200 mm F2.8 G Master lens, which he calls "the holy trinity of lenses."
Hoppough likes the mirrorless cameras because they "give it that cinematic feel" with a shallow depth of field to focus "on what you want your viewers to see."
All his gear is designed to be as light as possible to allow him to more easily "run and gun."
Martin Lindsay, product manager for broadcast and ENG workflows at Sony Electronics, says Sony's PXW-Z280 4K handheld camera can be used in full auto mode or manual mode.
"It's a compact camera that is very capable in terms of what it can do," he says.
The camera supports "all the great formats and codecs," has many ways to connect to the internet and can be used to livestream.
"As long as you have an internet connection, you can do an RTMP [real-time messaging protocol] stream," Lindsay says.
File transfer functionality is built into the camera, he says, and the autotransfer feature can be enabled to allow journalists to automatically push proxy clips any time there is an internet connection.
Lindsay says professional cameras have capabilities, such as a mechanical zoom, not found in mobile phone cameras, which have digital zoom. Digital zoom "degrades the quality of the image," he says.
Mobile phone cameras also can't "necessarily record high-quality 4K" or HDR video, he says.
That said, mobile phones do support the Content Browser Mobile (CBM) app that gives remote control capabilities over Sony cameras, he adds.
It shows the video feed over the phone, allows remote zoom and makes remote start and stop recording possible, he says. "It's a nice remote control for your camera."
Hoppough uses that app. "I can drop files directly from camera to my phone and can control some of the shots. If I do a standup, I could see it on my phone."
Audio Needs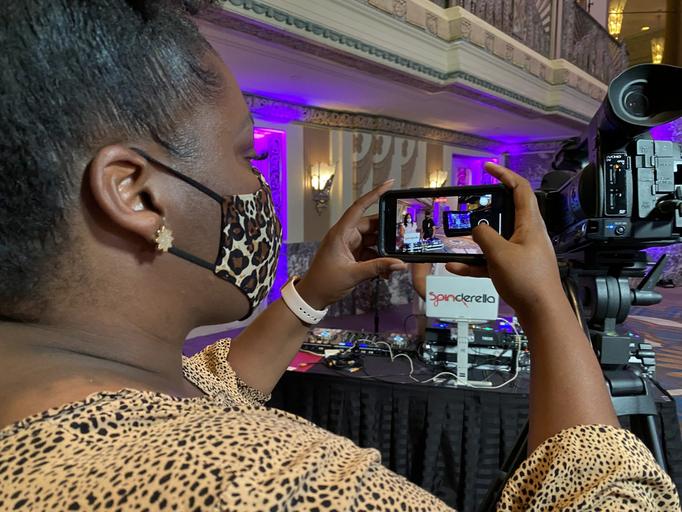 But video is only part of the story.
"I can't live without good audio equipment," Hoppough says. "If you have no audio, what's the point?"
He relies on a natural sound mic.
Ford Hatchett, the first MMJ to be hired by WXII Winston-Salem, N.C., said the pandemic's social distancing requirements prompted him to use a light stand as a mic stand.
"We can't hook them up with a lav(alier mic)" so using the improvised mic stand "provides a little more flexibility," he says.
He also has used a mic and the audio recording feature on his iPhone to track audio. "It's more convenient to track on my phone and send that in," he says. "That saves a lot of time."
Tripods And Lights
Tripods also feature in the MMJ's kit.
"Even my tripod is lightweight," Hoppough notes. "It's compact and light and quick to use."
Oliver uses a "sturdy tripod" to hold her Sony camera and light combination.
Because she shoots a lot of video in restaurants, having a 3200K-5600K color temperature light is critical, she says. "Restaurants have mood lighting. Mood lighting is great if you're on a date, but not if you're filming it."
Chris Petersen, a WXII photojournalist who does some solo field work, sometimes uses a box light for interviews.
But not all MMJs use lights out in the field.
"It's so hard to light yourself, so I try to use the natural light and won't even bother getting the light out," Hatchett says.
In fact, he says lighting is such a huge pain in the field for a solo MMJ that he wishes there were an easy way to light and manipulate the focus in a way that would allow movement during stand ups
"The hardest part of MMJing is the standup part, when you have to shoot yourself," Hatchett says. "I have to shoot myself close to the camera, which takes away some of the options of shot, especially when there's a lot going on."
Writing And Editing From The Field
And MMJs may file from the field, which means these "one-man-band" journalists have to write and edit from the field, says Raul Alba, Avid's director of product marketing for media. "The workflows have changed a lot recently."
Avid's Media Central tools allow MMJs to edit locally and send stories back to the station.
Media Central Collaborate, which launched in 2021, allows multiple people to collaborate on writing a script, similar to collaborating on content in Google Docs, Alba says. "It's a single place where everybody is commenting and adding their bits, working to build it quickly."
Avid MediaCentral Collaborate keeps team members up to date, whether they're working in the newsroom, in the field or at home. Users can access projects, assignments and media from anywhere, using any device.
Media Central Composer makes it possible to edit content that has been recorded locally along with content that may exist in the Media Central system, the cloud or the archive, Alba says, adding that editing can be done via software on a laptop or a lighter web editor. "They can mix anything and produce the final piece quickly, publish it to social media or use in news show," he says.
Karl So, a former MMJ who's now VP for product at Caton Technology, says the Caton Video Platform (CVP) provides reliable video transmission so journalists don't have to worry about "the technical stuff" like transmitting video.
The Caton Publisher app makes it possible for an MMJ to use a mobile phone camera in a way that allows simultaneous recording of the journalist and the guest, he says. "They can turn on the front and rear cameras together."
Ensuring Connectivity
Blended cellular backpacks also show up in MMJ kits, although MMJs typically don't do live solo shots. But the ability to access the internet is helpful for MMJs on the go.
Yvonne Monterroso, director of product management at Dejero, says the EnGo 265 mobile transmitter with GateWay Mode provides reliable blended connectivity to networks.
GateWay Mode "allows users to do a lot more in the field than they could previously do in the field with just sending content back," she says.
Dejero's EnGo 265 mobile transmitter with GateWay mode provides reliable blended connectivity to multiple networks.
With GateWay Mode, they can send files more quickly, and the system offers a half-second latency feature that enables "more dynamic type interviews and discussions from the field with the studio," she says.
The EnGo 265's reliable connectivity is possible because of a "state-of-the-art world-class antenna design" that helps MMJs "get the absolute most out of those connections," Monterroso says.
TVU Networks CEO Paul Shen says the TVU Anywhere mobile streaming app allows MMJs to transmit their content without needing to carry a bonded cellular backpack. "They started using this and realized this is better than a pack because it's always there, it can do all the things," he says.
The app had 900% growth in 2020 and growth has continued last year and this, Shen says, and Scripps, Nexstar and Hearst are all customers of TVU Anywhere.
TVU Anywhere, combined with a good mobile phone, is "all they need," Shen says.
Lightening The Load
And anywhere the MMJ can lighten their load is a help.
"What I hate the most about MMJing is lugging all the equipment," Miller says. "It's not in a cute kit like it sounds. It's a big suitcase."
She wishes her camera and tripod were smaller and more compact.
WXII recently ordered a few new MMJ kits from ThinkTankPhoto.com that came in rolling suitcases, Petersen says. "You can get around pretty easily with it," he says.
The TVU Anywhere mobile streaming app allows MMJs to transmit their content without needing to carry a bonded cellular backpack.
When he's out in the field, Petersen has relied on a foldable beach buggy to tote his gear. "We use them for getting all our gear from one place to another a little bit easier."
Hatchett says that as a large guy, "carrying everything around doesn't bother" him as much as it does others, including a friend who left MMJing simply because "she got sick of carrying everything around."
Even so, he says, he does have a hierarchy of what he needs for any given story, and those requirements shift depending on how far he has to lug the gear.
"You have to be selective in what you carry," he says. "When you realize this may be a long walk, you start losing things."