Razer Launches A Portable Bluetooth Mic & Other New Streaming Hardware
Razer has been expanding its lineup of streaming peripherals and accessories and today it just announced the Seiren BT, a portable Bluetooth microphone perfect for streamers or vloggers that take their streams away from the desktop or laptop.
This mic will be the perfect companion for anyone who often streams using their smartphone. As an example, you can attach your smartphone to a selfie stick or gimbal for enhanced control and better stabilization during streaming. But this sort of puts the mic further away from your face. Which could make it harder to hear you. With the Razer Seiren BT, you can clip the mic right to your jacket or shirt. Putting the mic closer to you so you come across loud and clear.
The Seiren BT also comes with features to enhance things even further. Such as a fur windsock ideal for outdoors and a foam windsock ideal for indoors. It also comes with noise suppression software that you can manage from the Razer Streaming Mobile app.
Advertisement
The Razer Seiren BT is joined by two more accessories
The Seiren BT is ideal for IRL streamers who use their smartphone. But Razer also has two new accessories for desktop streamers – the Audio Mixer for combined audio control and the Key Light Chroma for more enhanced, professional lighting.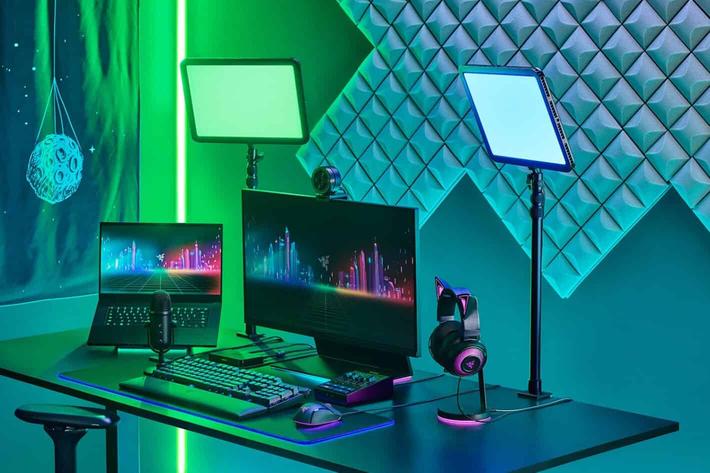 The new Audio Mixer combines the features and jobs of multiple devices into a single-device setup to make mixing your audio simpler and more efficient. It's a fully customizable 4-channel analog mixer featuring hybrid-XLR, TRS Line In and Out, Optical TOS, and even software-based noise gate and EQ functions.
As for the Key Light Chroma, you're getting an all-in-one stream lighting setup that supports Razer Chroma RGB, while also providing a brightness of up to 2800 lumens. The Key Light Chroma can also react to viewer interactions like emotes, alerts and shout-outs.
Advertisement
The lights mount to your desk with an include clamp-secured pole so things should fit nice and securely and in place. The Seiren BT, Audio Mixer, and Key Light Chroma are all available starting today at $99.99, $249.99, and $299.99 respectively. You can pick them up through Razer or through retail partners like Amazon.
Seiren BT
Audio Mixer
Advertisement
Key Light Chroma